June
Vacation Bible School – VPS
PIB will be hosting a week long vacation
Bible School this summer.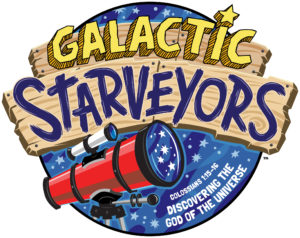 This year's theme is Galactic StarVeyors.
As kids search the visible to discover the invisible, they will discover that the God who
created everything there is wants a relationship with them! Kids will learn that God had
a plan to restore the relationship He knew we would break from the beginning.
PIB de Hartford tendra la Escuela
Biblica de Vacaciones este verano.
El tema para este año es Galactic StarVeyors.
Buscando lo visible, descubriendo lo invisible.
El Dios que creó todo lo que existe —lo que se puede conocer y lo que no, lo visible y lo invisible—, ese Dios… ¡quiere relacionarse con nosotros! Y desde el mismo principio, Dios tenía un plan para restaurar la relación que ya sabía que nosotros íbamos a romper.
Times/Horario
June 26 – June 30th
Monday to Friday
9am – 12 am
To register please click on the StarVeyor Logo. You may print the registration and return to Veronica Ramos at PIB de Hartford.
Para registrarse por favor de click el logo de StarVeyor. Imprima su registracion y devuelva a Veronica Ramos.
July
Jonah Lancaster, PA Trip
Join us in our trip to Lancaster, PA. We will be visiting the Sight and Sound Theater to watch their new live theater show Jonah.
Bus departs early morning July 7 and returns on Saturday 8th at night time.
For information on prices please contact our member Pablo Villarreal.
………………………………………………
Acompáñanos en nuestro viaje a Lancaster, PA. Iremos al teatro Sight & Sound a ver su nueva obra de Jonas.
El bus saldrá temprano en la mañana de Julio 7 y se regresara Sábado 8 por la noche.
Para más información por favor hablar con nuestro miembro Pablo Villarreal.
** Please provide your name in the comments section
Por favor incluya su nombre en la sección de comentarios.**